The Art of Martí
The art created by the Catalan Antonio Martí is probably unique in terms of what is created and presented in Colombia where he lives and works, if not in most of South America. The concepts of expressing his work based upon his vast knowledge of materials can as such be claimed to be unsurpassed. From his origins of studying in Barcelona, where he shared workshops with Antoni Tapiés under the tutelage of Joan Miró, he has spent his life experimenting, looking for new materials to work with and new aspects with which to present his learning. His workshop is likened to an experimental laboratory filled with chemicals and different materials with which he creates his masterpieces. Not only does he use the most unconventional of materials but also he is unconventional with the tools he uses – from sanders to steel brushes – always looking for new surfaces and textures to create and transform to present in the most inspirational form his mixture of colors.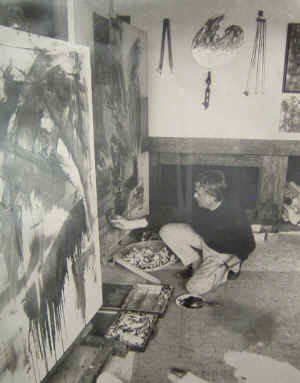 This same aspect of unconventionality appears to permeate his private life, which is comparable to that of a movie star. Indeed many of his works were purchased precisely by those involved in Hollywood and now decorate their homes in Beverly Hills and Manhattan. Mingling with the rich and famous such as Bob Hope, Frank Sinatra and John Forsyth however, has not changed Martí in character nor humility, in particular towards his work, which he knows still, requires constant study and dedication. Indeed, nowadays most of the pieces he creates are what can best be called laboratory experiments that he performs in small format prior to extending successful techniques to the larger canvases, which he prepares for exhibitions.
His drive for constant knowledge has led him to meet and exchange ideas with some of the world's most renowned and respected artists such as Salvador Dalí, Sam Francis, Miquel Villá and in turn his studio workshop has been visited by many respect artists and curators such as David Manzur, Galaor Carbonell, Eduardo Serrano and other renowned artists and critics.